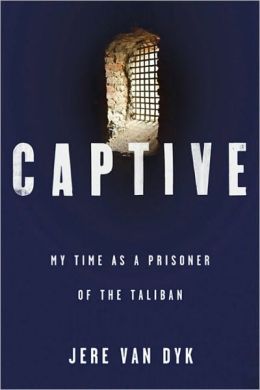 I respect American journalist Jere Van Dyk for having the guts to go into the heart of Taliban territory on the Afghanistan-Pakistan border. And I sympathize with him for having to endure a 45-day captivity.
But Van Dyk's account of his ordeal is frustratingly difficult to read. There's a good story in this book, but it's tough to sift out.
"Captive: My Time as a Prisoner of the Taliban" begins with Van Dyk preparing to make a furtive trip into Taliban territory, a delicate process of shadowy negotiations. But shortly after the trip begins he and his companions are taken captive by men whose motives aren't entirely clear. After a month and half in which Van Dyk repeatedly fears his execution is imminent, they are mysteriously freed.
Unfortunately, the book bogs down too often in Van Dyk's repetitive and circular emotional swings. He is distrustful of everyone (even those who help him after he is freed) and lurches between fears of death, suspicions about his companions, hopes for release, and, again, fears of death. Of course, these feelings are understandable under the circumstances, but detailing each mood change soon becomes tedious and advances the story nowhere.
"Captive" is also hamstrung by Van Dyk's use of short sentences almost exclusively ("It was dark and silent. No one talked. I put my head down and pulled my quilt over my head. I wanted to be alone. I thought of my family.") As a reader, you feel like you're constantly starting and stopping.
Van Dyk does succeed somewhat in putting a human face on the Taliban. He tries to understand his captors, and while they are often cold and exhibit a frightening religious fervor, they sometimes reveal a more compassionate side.
The book could really use a second voice to explain efforts to win his release and to show how his family is reacting. Even at the end, many questions are left unanswered: Why did this trip go awry? Did his interpreter betray him? How did he get freed? Was a ransom paid?
If you are interested in this sort of story, a much better book is "Buried Alive," by Roy Hallums, a contractor who was kidnapped and held for months in Iraq.
---
(Please support this blog by clicking on an ad, or by donating via the Paypal button below.)