On a recent Saturday morning, a couple hundred teenagers gathered outside a high school waiting to take the SAT. Some of them may have noticed a 50-something man standing among them in the drizzling rain, and wondered, "What is
he
doing here?"
That man was me, and I had my reasons.
Some months earlier, I had started thinking about the SAT. My kids would be taking the college entrance test this year and next and I wanted to learn more about it. I figured the best way to really understand the SAT was to take it.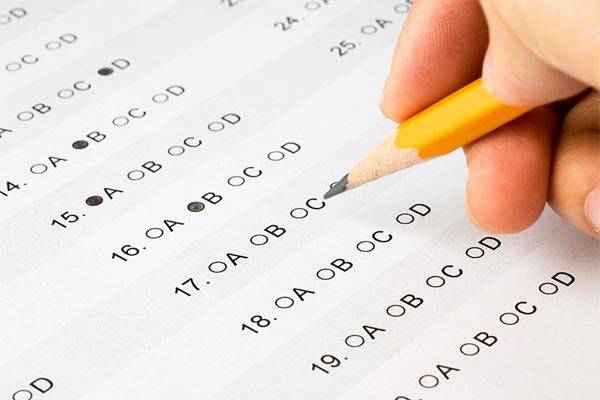 That wasn't my only reason. The other was that I'd never taken the SAT. I'd taken a different pre-college test four decades ago. As the SAT has risen to become
the
college assessment test, I've occasionally wondered how I would do on it.
There was one way to find out.
About a month ahead, I starting preparing. I took practice SATs, and reviewed my answers. It was quickly clear that I was much stronger on the reading and language portions than on the two math sections. In math, I had
a lot
of catching up to do.
I studied pre-calculus and algebra topics on Khan Academy. I tried a book called, "Outsmarting the SAT," that turned out not be smart at all. I went back and took more practice tests.
There was another factor I had to think about: urination.
I am a committed diet cola drinker -- it gives me a caffeine boost each day (I don't drink coffee). But that cola is also a diuretic, and prompts regular runs to the bathroom. That's not a problem if I'm at home or at work, but on on the strictly scheduled SAT, you can't just run to the toilet any time you want. And squirming with full bladder while trying to solve a quadratic equation wouldn't be a good thing.
So in the week ahead of the SAT, I gave up diet cola. My bathrooms runs ebbed. But my body still craved caffeine.
So on the day of the test I came prepared with a mint chocolate Clif Bar -- each one has 50 milligrams of caffeine. I figured this would be just enough to avoid caffeine withdrawal headaches.
As I arrived at the high school where I would take my test, a long line of cars backed out of the parking lot as parents dropped off their kids for the important day. Eventually, I slipped in and grabbed the first available parking spot.
At the front of the school were sheets with names of all the test-takers and our assigned rooms. I was a little early when I got my room and had a small bite of Clif Bar as I waited to enter.
Eventually, our testing supervisor, a friendly woman about my age, ushered us into the room. She checked each person's "ticket" and examined our photo IDs. Test-takers who has brought a cell phone had to hand it over. Soon a big stack of phones piled up on a table at the front of the room.
When I checked in, I grinned at the proctor and said, "Yes, I
am
taking the SAT." She said that was great, and asked if I was going back to school. No, just curious, I said.
I was somewhat nervous for the test. I knew it would require a full morning of hard concentration. Of course, in my case, it really didn't matter. I wasn't trying to get into college. But I still wanted to do well.
Our supervisor told each person where to sit. I think her main goal was to split up people who knew each other. I was one of the first people to check in and got assigned a seat right in front. Perfect. I had a great view of the clock, and there would be fewer distractions sitting in front.
There were a lot of preliminary items to fill out on the test form -- name, address, test center code, test booklet code, signature. But soon we launched into the test.
The first part was the reading section -- at 65 minutes, the longest section. There were five reading passages, each with 10 or 11 questions following it.
This was intense reading and sometimes I cupped my hands around my face to make sure I fully concentrated on the passage. This was no time to let your mind wander.
Before reading each passage, I would glance at the questions to give me a hint of what to look for. I think this slightly helped.
I thought it was somewhat mean to put the most scientific and technical of the passages -- one dealing with bacteria and vaccines -- at the end. That was tough. If I take the SAT again, I would consider finding the scientific passage (there always is one) and doing it first.
It was a tiring section and I was grateful we had a 10-minute break afterward (time for more Clif Bar). I made sure when I got back to my desk to close my eyes and try to clear my head before the next section.
The next section was the writing and language section. My pace was a little slow early on during this section, and I had to pick it up about halfway through. But it worked, and I finished in time. I found that in some cases I didn't have to read the entire passage to understand the question.
Next up was math section with no calculator. Our supervisor had been diligent about posting the stop times on the board, and then warning us as the clock counted down. But she made a mistake here. She announced that 10 minutes was remaining, when in fact, it was about five minutes. I gave her a curious look -- I was in the front row -- and pointed at the board. She corrected herself quickly.
(Some might say that I shouldn't have corrected her, and got an additional 5 minutes. But the finishing time was clearly printed on the board. If she hadn't recognized the mistake when I noted it, she would have later, likely causing more confusion and consternation.)
After that section, we had a five minute break. Another bite of Clif Bar.
Then it was on to math section with calculator. I did my best, but there were definitely questions I had to guess on. One thing you learn preparing for the SAT is to have a mental clock in your head, and recognize when you've just got to move on from a question. You can't keep pounding your head against the wall on a question you're not getting. Make your best guess and go on.
In none of the sections -- fortunately -- did I really run out of time. I always had at least three minutes to review my answers at the end. This was partly because I knew when give up on certain questions, but it still felt satisfying.
After that section was a 2-minute "stretch break." Then came the SAT's "experimental" section. This is a section where the College Board tries out new material. They insist, however, that
some
of the questions count (some people doubt that).
Apparently, not everybody gets the same type of section here. I got math with calculator. You only have 20 minutes on this section, and while this portion was the easiest of the whole test, for a while I feared that I might not finish all the questions.
Here was the problem: For all the other sections, the bubble-in answer sheet had exactly the same number of available answer spaces as there were questions. So in the experimental section, going by the answer sheet, it looked like there were 22 questions. And about halfway through the time, I was alarmed to see that I a lot of question to go.
Then suddenly, I realized there were only 15 questions. (It's likely the answer sheet is designed to handle more questions because different people get different material on the experimental section.)
This gave me much extra time, and relief. But that extra time actually caused me a problem. With plenty of time to reconsider my answers, I honed in on one question that showed two equations and asked that if those equations were graphed, how many places would they intersect?
At first, I said zero. Upon reconsideration, I said, no, one and changed my answer. Then I thought again, and said, no it's zero. More erasing. Finally, just as time was expiring. I changed it back to one.
Sigh. As I left the high school, I realized it should have been zero. I had overthought. I hope they don't count the experimental section!