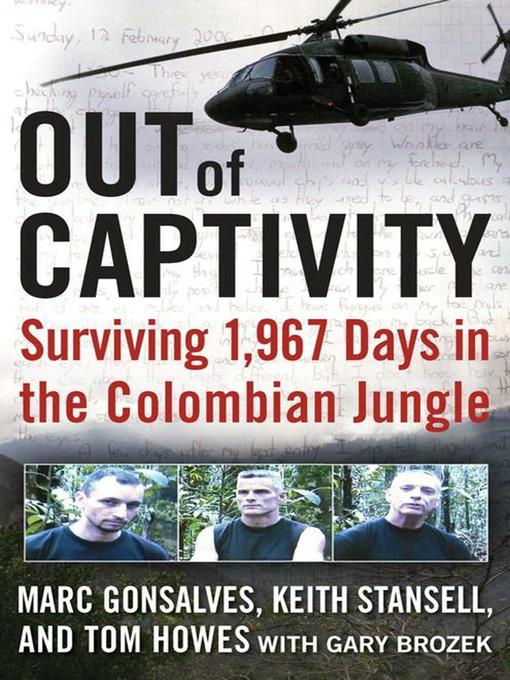 The most surprising thing about the story told in "Out of Captivity" is how much of it is mundane. The bulk of this 450-page book, written by three Americans who were held prisoner for five and a half years by the Colombian rebel group FARC, is filled with accounts of small rivalries and jealousies among captives, negotiating for little favors from guards and looking for diversions to keep themselves occupied.
I don't mean to diminish the ordeal of authors Keith Stansell, Marc Gonsalves and Tom Howes, the American contractors whose plane crashed while looking for Colombian cocaine fields. They suffered greatly through periods of starvation, illness and mistreatment by their captors. The fact that they survived is impressive.
Still, "Out of Captivity" is dominated by the minutiae of everyday life. The authors describe how small things, like soap, could be a treasure in their camp. Often confined to close quarters, working out sleeping arrangements among the prisoners was major issue. Battling insects was a concern. Gonsalves spent a year carving a chess set, and all the prisoners pitched in at one point to make a jungle volleyball court.
In the end, you have an overlong book that can be interesting, but is rarely exciting or captivating.
The book alternately lets each of the three men tell part of the story, a nice method of making sure they're all heard. But I was sometimes puzzled why some events weren't told by the person closest to the action. For example, when Marc briefly escaped why do we only get the story second-hand from Tom rather than directly from Marc? Similarly, during their ultimate rescue, Keith plays a more direct role than the other two, but we never hear the story from his point of view. Again, why?
During their captivity, the men got to know their guards personally, and it was interesting to see that while some of the FARC members were cruel, others could show signs of kindness.
The book offers an unflattering portrait of Ingrid Betancourt, a one-time Colombian presidential candidate who was taken prisoner by the FARC, and at times held in the same camps as Stansell, Gonlsaves and Howe. Betancourt is portrayed as a self-centered woman who would manipulate others to get what she wanted.
"Out of Captivity" could have benefited from an outside voice to describe what was happening in efforts to get the men released.
I did like that the authors were fairly open about their emotions, and their account of being reunited with their children at the end had tears welling up in my eyes.
If you like this sort of book, let me recommend two better ones. One is "Unbroken" by Laura Hillenbrand, the inspiring story of an American who survived horrific abuse and torture at the hands of the Japanese during World War II. The other is "Buried Alive" by Roy Hallums, a contractor who was kidnapped and held for months in Iraq.
-------
(Please support this blog by clicking on an ad.)